Antibacterial zinc orthotitanate
Authors
Milojković, Natalija
Orlic, Marina
Dikić, Jelena
Žunić, Milan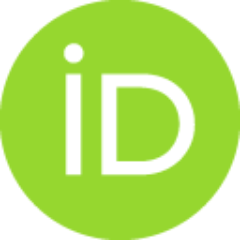 Simović, Bojana
Dapčević, Aleksandra
Conference object (Published version)

Abstract
Kontaminacija bakterijama je poslednjih godina postala problem na globalnom nivou zbog čega se javila potreba za novim antibakterijskim agensima. Stabilni titan- -dioksid i cink-oksid pokazuju antibakterijsku aktivnost te se smatraju pogodnim materijalima i zbog njihove netoksičnosti i niske cene [1, 2]. Cilj ovog rada bio je dobijanje novog materijala na bazi ZnO i TiO2 sa antibakterijskim svojstvima. U tu svrhu, titan(IV)-butoksid (25 mol.%) rastvoren je u vodenom rastvoru cink-acetata (75 mol.%), nakon čega je dodavan amonijak dok vrednost pH nije iznosila 8,5. Polovina dobijenog rastvora je hidrotermalno tretirana 12 h na 120 °C, zatim sušena 20 h na 100 °C i kalcinisana 1 h na 500 (uzorak H-ZnTi-500) i 800 °C (uzorak H-ZnTi-800). Druga polovina dobijenog rastvora bila je direktno sušena i kalcinisana pod istim uslovima (uzorci ZnTi-500 i ZnTi-800). Na osnovu XRD rezultata, fazni sastav i veličina kristalita izračunati su u Powder Cell programu, dok su parametri jedinič
...
ne ćelije i dužine veza dobijeni Ritveldovim utačnjavanjem pomoću FullProf/Winplotr programskog paketa. Termogravimetrijskom analizom nekalcinisanih uzoraka određena je temperatura kalcinacije. Antibakterijska aktivnost dobijenih prahova ispitana je prema dva soja bakterija: Gram-pozitivnoj S. aureus ATCC 25923 i Gram-negativnoj E. coli DSM 498. Jednofazni kubni Zn2TiO4 (ICSD#162392, prostorna grupa ) dobijen je jedino u slučaju ZnTi-800, dok je u ostale tri sinteze Zn2TiO4 bio većinska faza. Pored Zn2TiO4, uzorci H-ZnTi-500 i ZnTi-500 sadržali su 22 i 4 mas.% ZnO (ICSD#26170) redno, dok je u uzorku H-ZnTi-800 pronađeno 7 mas.% ZnO i 5 mas.% Zn2Ti3O8 (ICSD#083525). Parametar a svih dobijenih Zn2TiO4 pokazao se nezavisnim od samog procesa sinteze, a dobijene vrednosti su približno iste: 8,4465(3) za H-ZnTi-500, 8,4604(2) za ZnTi-500, 8,4564(2) za H-ZnTi-800 i 8,4565(2) Å za ZnTi-800. U strukturi kubnog Zn2TiO4 postoje dva katjonska mesta: tetraedarski koordinirani Zn u 0,0,0, i oktaedarski koordinirani Zn i Ti koji dele položaj 5/8,5/8,5/8. Dužine veza Zn–O i Zn/Ti– O su takođe nezavisne od uslova sinteze. Na 500 °C dobijeni su nanokristalni Zn2TiO4 (veličina kristalita iznosila je 26 i 71 nm za H-ZnTi-500 i ZnTi-500, respektivno) dok su mikrokristalni Zn2TiO4 nastali na 800 °C (veličina kristalita prelazila je 110 nm). Od svih uzoraka, ZnTi-500 je pokazao najbolju antibakterijsku aktivnost dostignuvši visoki stepen redukcije broja bakterijskih kolonija: 87,6 % E. coli DSM 498 i 63,4 % S. aureus ATCC 25923. To se može pripisati činjenici da je u ovom slučaju dobijen gotovo jednofazni Zn2TiO4 sa dovoljno malom veličinom kristalita. [1] A. Sirelkhatim et al., Nano-Micro Letters, 7 (2015) 219–242. [2] T. Matsunaga et al., FEMS Microbiology Letters, 29 (1985) 211–214.
In recent years bacterial contamination has become a significant problem of the global environment causing the necessity for novel antibacterial agents. Stable, non-toxic and low cost zinc oxide and titanium dioxide are considered as suitable antibacterial materials [1, 2]. The aim of this work was to find a new antibacterial material based on both, ZnO and TiO2. Therefore, titanium(IV) butoxide (25 mole%) was dissolved in a water solution of zinc acetate (75 mole%) after which the ammonia was added until pH was adjusted to 8.5. Half of the obtained solution was hydrothermally treated for 12 h at 120 °C, dried for 20 h at 100 °C and then calcined at 500 (sample H-ZnTi-500) and 800 °C (sample H-ZnTi-800) for 1 h. The other half of obtained solution was directly dried and calcined under the same conditions (samples ZnTi-500 and ZnTi-800). Base on XRD data for obtained powders, the phase composition and crystallite size were calculated in Powder Cell software while unit cell p
...
arameters and bond distances were obtained by Rietveld refinement using FullProf software in Winplotr environment. TG analysis of uncalcined samples was used to determine temperature of calcination. Antibacterial properties of obtained powders were examined towards Gram-positive S. aureus ATCC 25923 and Gram-negative E. coli DSM 498 bacteria. The single-phase cubic Zn2TiO4 phase (ICSD#162392, space group ) was obtained in the case of ZnTi-800 while, for three other samples, the Zn2TiO4 is found to be a predominant phase. Beside Zn2TiO4 samples H-ZnTi-500 and ZnTi-500 contained 22 and 4 wt.% of ZnO (ICSD#26170) respectively, while H-ZnTi-800 had 7 wt.% of ZnO and 5 wt.% of Zn2Ti3O8 (ICSD#083525). The a-parameter of all obtained Zn2TiO4 was independent of synthetic procedure having following values: 8.4465(3) for H-ZnTi-500, 8.4604(2) for ZnTi-500, 8.4564(2) for H-ZnTi-800 and 8.4565(2) Å for ZnTi-800. Two cation sites can be found in cubic Zn2TiO4: tetrahedrally coordinated Zn at 0,0,0 and octahedral site at 5/8,5/8,5/8 shared between Zn and Ti. The Zn–O and Zn/Ti–O bond distances were also independent of synthesis. The nanocrystalline Zn2TiO4 phases were obtained at 500 °C (crystallite size for H-ZnTi-500 and ZnTi-500 were 26 and 71 nm respectively), and microcrystalline ones at 800 °C (the crystallite size exceeded 110 nm). Among all samples, the ZnTi-500 demonstrated the best antibacterial activity reaching high reduction in the number of bacteria cells: 87.6 % of E. coli DSM 498 and 63.4 % of S. aureus ATCC 25923. This could be explained by the fact that almost pure Zn2TiO4 phase was obtained with sufficiently small crystallites. [1] A. Sirelkhatim et al., Nano-Micro Letters, 7 (2015) 219–242. [2] T. Matsunaga et al., FEMS Microbiology Letters, 29 (1985) 211–214.
Keywords:
Hydrothermal synthesis / Precipitation synthesis / Zinc orthotitanate / Antibacterial activity / Echerichia coli / Staphilococcus aureus
Source:
27th Conference of the Serbian Crystallographic Society, Kragujevac, 2021, 18-
Publisher:
Српско кристалографско друштво, Београд, Србија; Serbian Crystallographic Society, Belgrade, Serbia
Funding / projects: